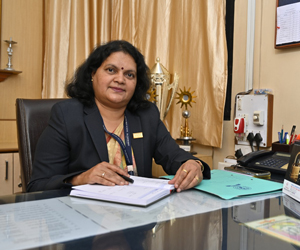 Mrs. Anuja Jitendra Yerudkar
B.Sc, B.Ed, L.L.B, M.A ( Edu)
Principal
We impart an educational experience that includes a combination of positive academic, social, physical and emotional experience. Our school aims at being judged on its teaching of academic and social-skills and in helping children become kind, considerate and responsible, citizens rather than mere successful professionals.
The school, along with the support of the able teachers strive hard to help the child grow into an independent individual by providing him with the tools for decision making and safe environment, in which he can explore and improve on his skills.
In our school especially in the Pre-primary section we believe that it is the base of all education. We preserve the concept of "childhood", challenging and encouraging children to develop into worthwhile learners and thinkers, full of curiosity about the world around.
Our curriculum is child-centered and hence is presented in terms of activities and experience, through which children learn because they are intrinsically motivated. It encompasses the total development of the child its objective being to provide organic and natural education where children have freedom of choice and the opportunity for emotion expression.
We feel the activity is important, the process not the product. We provide a stimulating enriching environment where children are encouraged to 'learn how to learn'. In our Pre-School children are doing, seeing, exploring, finding our, inquiring, that makes the process.